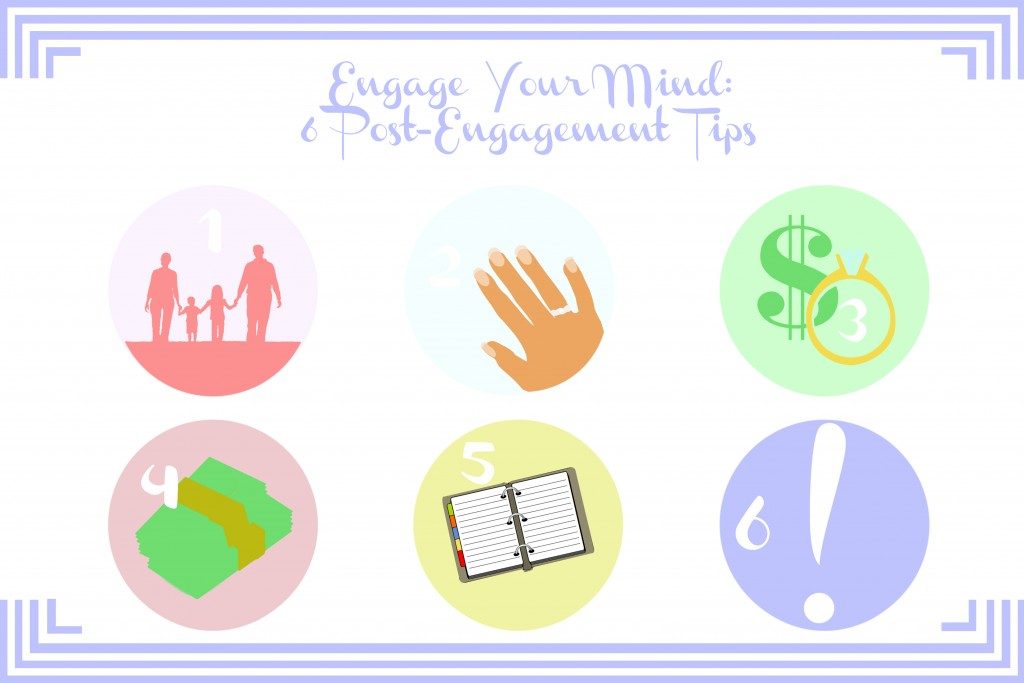 "Engage you Mind" 6 post engagement tips
Getting engaged is a big milestone in your life, and celebrating it is important! But it's just as important to remember six important steps to follow once you doget engaged that will make your life a whole lot easier.

1. Tell your family first.
It can be tempting to snap a photo and upload it to Instagram the second after you're engaged, but don't forget family, relatives and loved ones should hear the wonderful news first! After all, marriage means that you're bringing your spouse-to-be into your family and you're being brought into theirs.
2. Get a manicure.
This might seem a little silly, but it's something that makes a lot of sense. After all, after your engagement you can expect everyone from your coworkers to your friends to casual acquaintances taking a good hard look at your ring…and who wants to show off a hand with chipped nail polish, out of control cuticles, or ragged nails? A manicure will look polished and lovely next to your beautiful new ring. (Plus a manicure is always a fun way to treat yourself.)
3. Insure your ring.
This doesn't seem silly, but to some it might seem odd. Insure your ring? It's not like you're planning to take it off and lose it! But, just like home insurance or health insurance, insuring your ring gives you a sense of security for those just-in-case moments. Nobody plans to lose their ring; nobody plans to have a stone come loose. But nobody plans to get injured, either—they're still happy they have health insurance when they break an arm. Use the mantra "better safe than sorry" and insure your beautiful ring.
4. Discuss your wedding budget (with family that may want to participate in the cost).
Today, the bride's family doesn't always pay for the wedding. More couples are taking on the costs themselves—but that doesn't mean that either of the families won't help out where they can. Many brides' families pay for their wedding dresses, or the groom's family might pay for the music. It's important to sit down post-engagement and get all the money matters out in the open so you know who's paying for what and for whom from day one. This will cut down on stress throughout the wedding process, and keep bad feelings from coming out in the years of family reunions to come.
5. Get a wedding planner (especially for destination weddings).
Weddings are an event these days—and many of them are big. You wouldn't throw a large black-tie catered gala without help…so why a wedding? While some couples opt to plan the weddings themselves, if you're worried about time constraints or job issues, a wedding planner is the way to go. Wedding planners are essential if you're looking into a destination wedding—planners will know the city and all the best venues,vendors and entertainment to offer you.
6. Don't forget to enjoy the moment!
This is a special time for you and your relationship—just as important as a first date or the honeymoon phase. You're preparing to take a huge step forward in your life with one of your best friends by your side and the world is at your feet, full of possibilities! Don't get so caught up in rushing toward the wedding that you don't enjoy where you are and who you're with.